Last updated 02 January 2017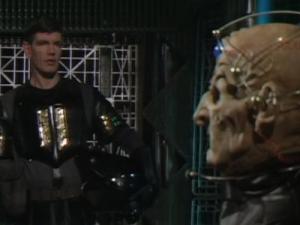 Broadcast: Saturday 16th October 1999
10:30pm-12:00am PDT
(05:30 GMT)
«
»
KSPS
Featuring: Peter Davison, Janet Fielding, Mark Strickson, Chloe Ashcroft, Rodney Bewes, Maurice Colbourne, Del Henney, Rula Lenska, Terry Molloy
Davros has been kept in suspended animation aboard a prison space station but now the Daleks have come to collect him, aided by Lytton and his fake 'policemen'.
Synopsis Source: Doctor Who Guide
Broadcast Source: TWIDW
Report from the This Week in Doctor Who Archive:
Friday 15th October 1999:
KSPS 7 Spokane, WA
http://www.ksps.org/
http://www.tvquest.com/ zip 99223
Sat 10:30PM PDT (11:30PM MDT) Resurrection of the Daleks movie
The Daleks attack a space prison to revive a very special prisoner. The prisoner has the ability to cure the ills of the Daleks, and help them regain their place as the supreme beings of the universe. Unknown to them, this prisoner has other ideas. In a way, the Daleks are acting like the humans in the lost
Power Of The Daleks
story. Will the face the same devastation as those poor humans many Who eras ago?