Last updated 02 January 2017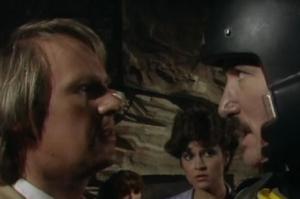 Broadcast: Saturday 10th July 1999
10:30pm-12:10am PDT
(05:30 GMT)
<
>
«
»
KSPS
Featuring: Peter Davison, Janet Fielding, Sarah Sutton, Matthew Waterhouse
Deadly androids are protecting a bomb buried beneath the Earth from all investigation. However, the Doctor manages to disable it, alerting its owners – the Cybermen...
Synopsis Source: Doctor Who Guide
Broadcast Source: TWIDW
Report from the This Week in Doctor Who Archive:
Friday 9th July 1999:
KSPS 7 Spokane, WA
http://www.ksps.org/
http://www.tvquest.com/ zip 99223
Saturday at 10:30PM PDT (11:30PM MDT) Earthshock movie version
The 5th Doctor's escalating war of words with Adric is rudely interrupted by all-too-familiar aliens bent on destroying the Earth. Why are they so insistent this time? How can the Doctor convince anyone to believe him? And in the 1981-1982 TV season, when the British public had already been caught off guard with the ending of Blake's 7 and the death of the Sonic Screwdriver, would the
Doctor Who
audience be able to cope with what happened next? Apparently not, if the ratings are anything to go by.