Last updated 02 January 2017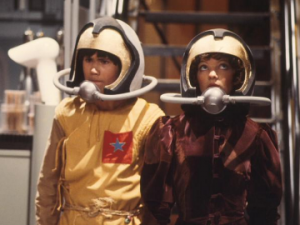 Broadcast: Saturday 12th June 1999
10:30pm-12:10am PDT
(05:30 GMT)
<
>
«
»
KSPS
Featuring: Peter Davison, Janet Fielding, Sarah Sutton, Matthew Waterhouse, Stratford Johns, Annie Lambert, Philip Locke, Paul Shelley
The arrival of the TARDIS is observed by three Urbankans via their manopticon devices. Intrigued, they begin dividing the Doctor's friends, and disguising themselves as humans
Synopsis Source: Doctor Who Guide
Broadcast Source: TWIDW
Report from the This Week in Doctor Who Archive:
Friday 11th June 1999:
*
KSPS 7 Spokane, WA
http://www.ksps.org/
Saturday at 10:30PM PDT (11:30PM MDT) Four To Doomsday movie version
The first produced Peter Davison story (2nd one aired), where the time travelers land on a ship run by highly intelligent frogs. One of the frogs thinks that he is God. (Hint - if you're not 100% sure, you can probably rule yourself out.) This was originally planned to be Nyssa's last story, which explains one of the sub-plots very nicely.