Last updated 02 January 2017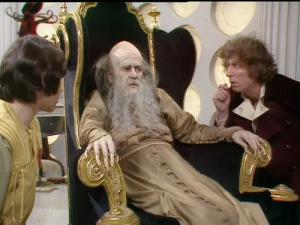 Broadcast: Saturday 22nd May 1999
10:30pm-12:10am PDT
(05:30 GMT)
<
>
«
»
KSPS
Featuring: Tom Baker, Sarah Sutton, Matthew Waterhouse, Anthony Ainley, Geoffrey Beevers
The Keeper of Traken is nearing the end of his long reign. Fearing a terrible evil is about to threaten the peace and harmony of his world, he requests the Doctor's help.
Synopsis Source: Doctor Who Guide
Broadcast Source: TWIDW
Report from the This Week in Doctor Who Archive:
Friday 21st May 1999:
KSPS 7 Spokane, WA
http://www.ksps.org/
Saturday at 10:30PM PDT The Keeper of Traken movie version
For millenia, the Traken Union has been one of the most peaceful places in space. One Trakenite sacrifices his own existence to be the keeper of a machine that keeps evil away. The current Keeper knows his life is ending, and has discovered a surprise threat growing on Traken. So, he has found a character with a brilliant ability to smell out and deal with evil. This character travels in a Police Telephone Box and wears a very long scarf.