Last updated 02 January 2017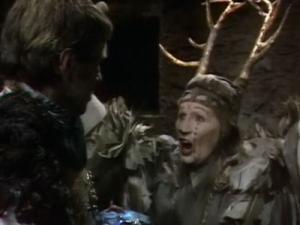 Broadcast: Friday 1st December 2000
10:30pm-10:55pm CST
(04:30 GMT)
<
>
«
»

<
>
«
»
Prairie Public Television
Featuring: Tom Baker, John Leeson, Mary Tamm, Iain Cuthbertson
Pursued into the catacombs by the Graff and attacked by the ferocious Shrivenzale, the Doctor and Romana struggle to stay alive and find the first segment of the Key to Time.
Synopsis Source: Doctor Who Guide
Broadcast Source: TWIDW
Report from the This Week in Doctor Who Archive:
Friday 1st December 2000:
PPTV North Dakota
2,3,4,6,9,13,19
http://www.pptv.org/
Fri 10:30PM CST (9:30PM MST) The Ribos Operation ep 4 of 4
The 4th Doctor, Romana, Garron, and Unstoffe are hunted through the Catacombs by the Graff Vynda-K. Meanwhile, a personal loss reveals the sensitive side of the Graff Vynda-K. Next episode airs December 15.