Last updated 02 January 2017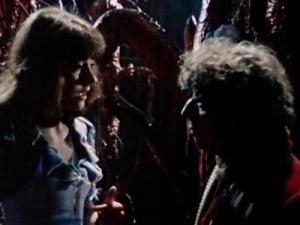 Broadcast: Friday 16th April 1999
10:30pm-10:55pm CDT
(03:30 GMT)
<
>
«
»

<
>
«
»
Prairie Public Television
Featuring: Tom Baker, Elisabeth Sladen, Prentis Hancock, Frederick Jaeger
The TARDIS takes the Doctor and Sarah to the planet Zeta Minor on the edge of the universe. An unseen menace has wiped out a Morestran expedition and haunts the alien jungle...
Synopsis Source: Doctor Who Guide
Broadcast Source: TWIDW
Report from the This Week in Doctor Who Archive:
Friday 16th April 1999:
PPTV North Dakota
2, 3, 4, 6, 9, 13, 19 http://www.prairiepublic.org/
Friday at 10:30PM CDT Planet of Evil episode 1 of 4
The 4th Doctor and Sarah miss London by a mere few billion miles and 35,000+ years. They land on a jungle planet where an expedition has been killed one by one, with the blood sucked out of their bodies. And the thing that killed the expedition has noticed them, too.