Last updated 02 January 2017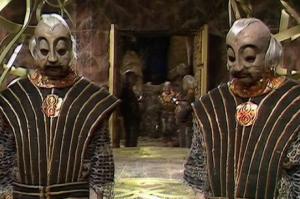 Broadcast: Friday 12th March 1999
8:00pm-8:25pm CST
(02:00 GMT)
<
>
«
»

<
>
«
»
Prairie Public Television
Featuring: Tom Baker, Ian Marter, Elisabeth Sladen, David Collings, Ronald Leigh-Hunt, Jeremy Wilkin
The Doctor, Sarah and Harry return to Nerva, but at an earlier point in time. The crew are dying and blame a space plague, but the Doctor suspects a survivor may be responsible.
Synopsis Source: Doctor Who Guide
---
Broadcast notes:
Timing approximate owing to this being a pledge evening (8:00-11:00pm)
Broadcast Source: TWIDW
Report from the This Week in Doctor Who Archive:
Friday 12th March 1999:
Prairie Public TV of ND
2, 3, 4, 6, 9, 13, 19
http://www.prairiepublic.org/
Friday at 8PM CST Revenge of the Cybermen all 4 episodes
Pledge drives. Runs until 11PM. Prairie fans in the northern US and southern Canada can enjoy this early 4th Doctor story, where the Doctor finally catches up with his errant TARDIS. While he waits for its arrival, there's a space plague, a triple agent, a gold planet, irritated natives, and one of his oldest foes, just to keep the Doctor busy.