Last updated 02 January 2017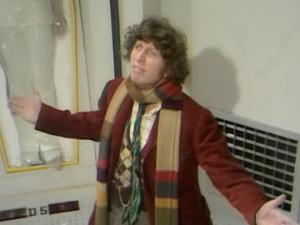 Broadcast: Friday 18th December 1998
10:30pm-10:55pm CST
(04:30 GMT)
<
>
«
»

<
>
«
»
Prairie Public Television
Featuring: Tom Baker, Ian Marter, Elisabeth Sladen
The TARDIS arrives in the far future on the Ark space station where mankind's survivors are in hibernation. Sarah is accidentally placed in suspended animation.
Synopsis Source: Doctor Who Guide
Broadcast Source: TWIDW
Report from the This Week in Doctor Who Archive:
Friday 18th December 1998:
Prairie Public Television of North Dakota
2, 3, 4, 6, 9, 13
http://www.prairiepublic.org/
Friday at 10:30PM - The Ark In Space - episode 1 of 4
After a 2 week absence, PPTV reveals what happened to Harry Sullivan when the 4th Doctor and Sarah lured him into the TARDIS. He finds himself in the future en board a ship carrying the last survivors of humanity. He takes it better then most new companions. Also features the "homo- sapiens" speech.