Last updated 02 January 2017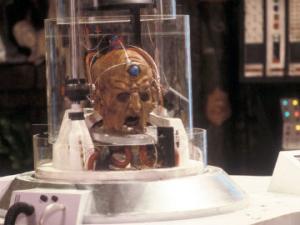 Broadcast: Monday 9th November 1998
1:15am-1:40am PST
(09:15 GMT)
<
>
«
»
KQED Plus
Featuring: Colin Baker, Nicola Bryant, Eleanor Bron, William Gaunt, Terry Molloy, Alexei Sayle, Clive Swift, Jenny Tomasin
An assassin plots to murder Davros and the Doctor admits to Peri they are in great danger…
Synopsis Source: Doctor Who Guide
---
Broadcast notes:
Timing approximate, based on what is shown after an auction earlier in the evening.
Broadcast Source: TWIDW
Report from the This Week in Doctor Who Archive:
Friday 6th November 1998:
KTEH San Jose, California
- channel 54
(NOTE: KTEH has 3 scenarios for this weekends Whocasting. They are uncertain what time the art auction will end.)
Scenario 1:
Sunday at 11PM - A Mythmakers Interview With Jon Pertwee
Scenario 2:
Sunday at 11:15PM - KTEH interviews with Jon Pertwee and Patrick Troughton
Scenario 3:
KTEH interviews Terry Nation
And after that, regardless of the scenario ...
Sunday at Midnight - Revelation of the Daleks - 4 episode version
All times are approximate. In the event that they follow scenario 2, Revelation Of The Daleks will begin 2 and a half minutes late.