Last updated 02 January 2017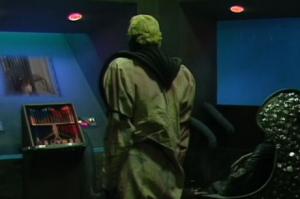 Broadcast: Sunday 1st November 1998
11:25pm-11:50pm PST
(07:25 GMT)
<
>
«
»
KQED Plus
Featuring: Colin Baker, Nicola Bryant, David Chandler, Paul Darrow
As rebellion grows on Karfel, the Maylin's daughter Vena falls into the Timelash while protecting a rebel. She is drawn into the TARDIS as it travels through a Kontron time tunnel.
Synopsis Source: Doctor Who Guide
Broadcast Source: TWIDW
Report from the This Week in Doctor Who Archive:
Friday 30th October 1998:
KTEH San Jose, California
- channel 54
Sunday at 11PM - Timelash - 4 part version
Sunday late night at 12:40AM - "Evening With Paul Darrow 1991"
An aspiring author bungles his way into the battle to liberate Karfel from the Borad. Needless to say, the 6th Doctor is not happy to have him there. The role of Tekker is played by
Paul Darrow
, better known for his role on
Blake's 7
. So the station has unearthed a special they made with Paul to run for about a half hour after the
Doctor Who
story ends.