Last updated 02 January 2017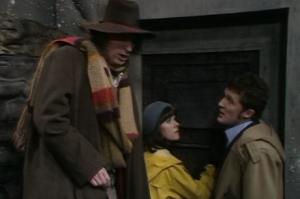 Broadcast: Sunday 20th December 1998
2:00pm-3:00pm EST
(19:00 GMT)
<
>
«
»
BBC America
Featuring: Tom Baker, Ian Marter, Elisabeth Sladen, Peter Miles, Michael Wisher
The Time Lords send the Doctor, Sarah and Harry to Skaro at a point in time shortly before the creation of the Daleks. The Doctor's mission is to destroy his greatest enemy.
Synopsis Source: Doctor Who Guide
Broadcast Source: TWIDW
Report from the This Week in Doctor Who Archive:
Friday 18th December 1998:
BBC America
- cable / Dish Network channel 135
Saturday at 5PM EST, Sunday at 2PM - Genesis of the Daleks - movie version, part 1 of 3
The 4th Doctor is hijacked in time and sent to the planet Skaro, where he is given 3 options. 1 - change the development of the Daleks. 2 - discover a new weakness in them. 3 - keep them from existing. While the Doctor ponders the consequences of altering history, viewers will ponder the many commercials that pad out the hour and resulted in some scenes being cut.