Last updated 02 January 2017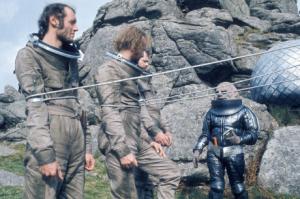 Broadcast: Sunday 13th December 1998
2:00pm-3:00pm EST
(19:00 GMT)
<
>
«
»
BBC America
Featuring: Tom Baker, Ian Marter, Elisabeth Sladen, Kevin Lindsay
The Doctor, Harry and Sarah find Earth is a desolate wilderness. They meet a group of stranded human colonists who are being hunted by a robot and experimented upon by its master.
Synopsis Source: Doctor Who Guide
Broadcast Source: TWIDW
Report from the This Week in Doctor Who Archive:
Friday 11th December 1998:
BBC America
- cable / Dish Network channel 135 - http://www.bbcamerica.com/
Saturday at 5PM EST, Sunday at 2PM - The Sontaran Experiment - movie version
The 4th Doctor, Sarah, and Harry transmat from Nerva to Earth to determine if it's habitable for humanity. They find a potato-headed alien torturing humans to evaluate their suitability for conquest. Edited for commercials. Scheduled to run 1 hour.