Last updated 02 January 2017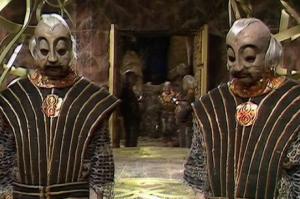 Broadcast: Saturday 31st October 1998
5:00pm-6:00pm EST
(22:00 GMT)
<
>
«
»

<
>
«
»
BBC America
(adverts during broadcast)
Featuring: Tom Baker, Ian Marter, Elisabeth Sladen, David Collings, Ronald Leigh-Hunt, Jeremy Wilkin
The Doctor, Sarah and Harry return to Nerva, but at an earlier point in time. The crew are dying and blame a space plague, but the Doctor suspects a survivor may be responsible.
Synopsis Source: Doctor Who Guide
Broadcast Source: TWIDW
Report from the This Week in Doctor Who Archive:
Friday 30th October 1998:
BBC America - Cable / Satellite
Saturday at 5PM Eastern, Sunday at 2PM - Revenge of the Cybermen - movie version, part 1 of 2
The 4th Doctor, Sarah, and Harry get back to Space Station Nerva, millenia before they left. While they wait for the TARDIS to turn up, they deal with a little "space plague" and the return of an enemy that should be long dead. BBC America tends to cut scenes for time, so be warned. Including commercials, the broadcast should run 1 hour.