Last updated 02 January 2017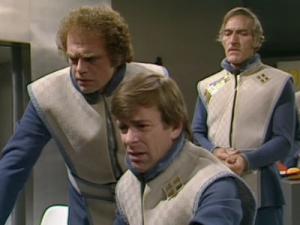 Broadcast: Saturday 20th February 1999
10:30pm-12:00am PST
(06:30 GMT)
<
>
«
»
KSPS
Featuring: Tom Baker, John Leeson, Mary Tamm, Philip Madoc, Glyn Owen
Tracing the fifth segment of the Key to Time to the third moon of Delta Magna, the Doctor and Romana are soon caught up in the conflict between humans and the Swampies.
Synopsis Source: Doctor Who Guide
Broadcast Source: TWIDW
Report from the This Week in Doctor Who Archive:
Friday 19th February 1999:
KSPS 7 Spokane, WA
http://www.ksps.org/
Saturday at 10:30PM The Power of Kroll movie version
After a 3 week hiatus, the 4th Doctor returns searching for the 5th segment of the Key To Time. But first, he must unravel the mysteries of a refinery that is impossibly successful, natives that worship an unbelievably large octopus, and a refinery employee who looks suspiciously like the actor who voices K9, who isn't in this story. About 83 minutes.