Last updated 02 January 2017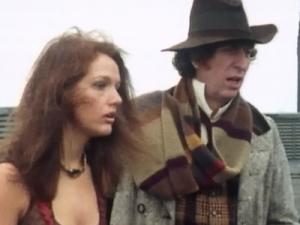 Broadcast: Saturday 12th December 1998
10:30pm-12:00am PST
(06:30 GMT)
<
>
«
»
KSPS
Featuring: Tom Baker, Louise Jameson, John Leeson, Michael Keating
The TARDIS arrives on Pluto which has been made habitable and turned into a giant factory where the ruthless Company exploits its under-paid workers.
Synopsis Source: Doctor Who Guide
Broadcast Source: TWIDW
Report from the This Week in Doctor Who Archive:
Friday 11th December 1998:
KSPS 7 Spokane, Washington
- http://www.ksps.org/
Saturday at 10:30PM - The Sun Makers - movie version
The best 4th Doctor story. The Doctor, Leela, and K9 land on Pluto in the future. Humanity has been moved out here to mine materials that will make the Usurians rich. The humans are also being taxed to death. And now Independence Day has come! Remember to watch this story just before paying your taxes. About 90 minutes.