Last updated 02 January 2017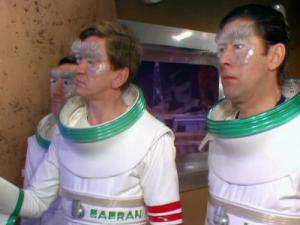 Broadcast: Saturday 28th November 1998
10:30pm-12:00am PST
(06:30 GMT)
<
>
«
»
KSPS
Featuring: Tom Baker, Louise Jameson, John Leeson, Michael Sheard
An alien virus infects the human crew of a refuelling station on Titan, one of the moons of Saturn. The Doctor is also infected and becomes possessed by the will of the Nucleus.
Synopsis Source: Doctor Who Guide
Broadcast Source: TWIDW
Report from the This Week in Doctor Who Archive:
Friday 27th November 1998:
KSPS Spokane, Washington
- channel 7
Saturday at 10:30PM - The Invisible Enemy - movie version
You're a microscopic life form searching the galaxy for a suitable host to use for breeding and expanding your empire. Imagine you find a brilliant host with plenty of intellect, much mobility, and knowledge about traveling in time. I think you'd be deliriously happy. About 90 minutes.