Last updated 02 January 2017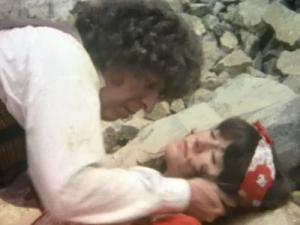 Broadcast: Saturday 17th October 1998
10:30pm-12:00am PDT
(05:30 GMT)
<
>
«
»
KSPS
Featuring: Tom Baker, Elisabeth Sladen
The TARDIS returns to present day Earth, where Sarah is caught in a rock fall and becomes possessed by the fossilized stone hand of the alien Eldrad.
Synopsis Source: Doctor Who Guide
Broadcast Source: TWIDW
Report from the This Week in Doctor Who Archive:
Friday 16th October 1998:
KSPS Spokane, Washington
- channel 7
Saturday night at 10:30PM Pacific - The Hand Of Fear - movie format
The 4th Doctor and Sarah, after landing so many times on alien planets that look like quarry pits, finally land in a quarry pit, just before the part they're in gets blown up. Sarah takes the experience very badly under the circumstances. Indeed, she seems practically "alien". And she has a peculiar fascination with a "hand" found in the blast. Some British Columbian and Albertan viewers can see this broadcast. 90-95 minutes.