Last updated 02 January 2017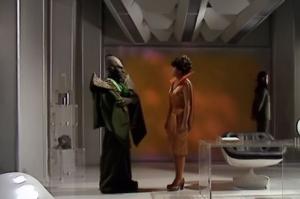 Broadcast: Saturday 7th November 1998
10:00pm-10:30pm MST
(05:00 GMT)
<
>
«
»
Colorado Public Television
Featuring: Jon Pertwee, Katy Manning, Vera Fusek, Michael Hawkins
The Doctor and Jo land on a spaceship in the far future as it is attacked by Ogrons, which the human crew see as Draconians. The Doctor and Jo are taken to Earth as spies.
Synopsis Source: Doctor Who Guide
Broadcast Source: TWIDW
Report from the This Week in Doctor Who Archive:
Friday 6th November 1998:
KBDI Denver, Colorado
- channel 12
Friday at 11PM - Carnival Of Monsters - episodes 3 and 4 of 4
Saturday at 10PM - Frontier In Space - episodes 1 and 2 of 6
The 3rd Doctor's quite busy these days, isn't he? First he has to fix a damaged mini-scope before all the specimens inside (including Jo) die. Then he gets caught in the crossfire of an attempt by Ogrons to create a war between the Humans and the Draconians. Can't he ever go anywhere nice?