Last updated 02 January 2017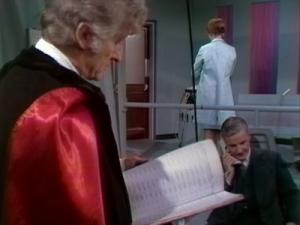 Broadcast: Saturday 31st October 1998
9:20pm-12:30am MST
(04:20 GMT)
<
>
«
»
Colorado Public Television
Featuring: Jon Pertwee, Nicholas Courtney, Caroline John, Fulton Mackay, Peter Miles
UNIT are summoned to Wenley Moor research station which is experiencing mysterious power losses. In the nearby caves, one of the staff has been killed and another sent insane.
Synopsis Source: Doctor Who Guide
---
Broadcast notes:
Pledge broadcasts during story.
Broadcast Source: TWIDW
Report from the This Week in Doctor Who Archive:
Friday 30th October 1998:
KBDI Denver, Colorado
- channel 12
No Friday broadcast this week.
Saturday from 9:20PM to 12:30AM - Silurians - Pledge special - complete story airs
Saturday late night from 12:30 to 3:45AM - Silurians - repeat
KBDI is having a special pledge weekend, and
Doctor Who
is getting its own night. Two chances to see what will presumably be the recolorized version of "Silurians", the second 3rd Doctor adventure. It's a little less clear whether the broadcasts will be episode or movie format (
KBDI
normally airs in episodic format, but they can fit in about 15 more minutes of pledges with the movie version). Start and end times are approximate. And if this isn't enough, they're airing an episode of
Wishbone
at 3:45AM for the large kids audience around at that hour!