Last updated 02 January 2017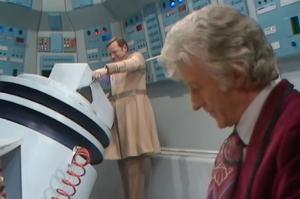 Broadcast: Friday 28th August 1998
11:00pm-11:30pm MDT
(05:00 GMT)
<
>
«
»
Colorado Public Television
Featuring: Jon Pertwee, Katy Manning, John Hollis, Paul Whitsun-Jones
With Jo held prisoner, the Doctor is forced to work for the Marshal. The Earth Investigator's ship prepares to dock at Skybase.
Synopsis Source: Doctor Who Guide
Broadcast Source: TWIDW
Report from the This Week in Doctor Who Archive:
Friday 28th August 1998:
KBDI 12 Denver, Colorado
returns Doctor Who from a pledge vacation this weekend.
Friday night at 11PM Mountain time (1AM Eastern)
, they finally repeat episodes 5 and 6 of
The Mutants
, a 3rd Doctor and Jo adventure. Then on
Saturday
night, they will run episodes 1 and 2 of
The Time Monster
at
11PM Mountain (1AM Eastern)
, one hour later then normal due to a viewer's choice feature. The Doctor awakens from a nightmare and decides to track down the Master. The trail leads him to the TOM-TIT project, an experiment in interstitial time that is getting dangerously out of hand ... For a Time Lord exiled to one time and planet, he seems to be having no problem getting around. Some Ontario viewers can also see these broadcasts.