Last updated 02 January 2017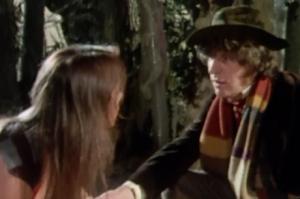 Broadcast: Saturday 26th February 2000
11:00pm-11:30pm EST
(04:00 GMT)
<
>
«
»
WQED
Featuring: Tom Baker, Louise Jameson, Brendan Price
The Doctor arrives on an alien world and is taken captive by the savage Sevateem tribe. Accused of being 'the evil one', the Doctor begins to suspect that he has been here before.
Synopsis Source: Doctor Who Guide
Included Howard DeSilva introduction.
Timing approximate, part of a pledge evening.
Broadcast Source: TWIDW
Report from the This Week in Doctor Who Archive:
Friday 25th February 2000:
WQED/WQEX 13, 16 Pittsburgh, PA
http://www.wqed.org/
Sci-Fi Pledge Night Celebrating
Doctor Who
, hosted by TJ Lubinsky and Alicia Maloney?
Sat 11PM-2AM EST The Face of Evil all 4 eps
The 4th Doctor encounters a tribe of primitive humans who believe him to be a being of pure evil. Did the Doctor make a terrible mistake in his past or future? Next episode airs March 25.