Last updated 02 January 2017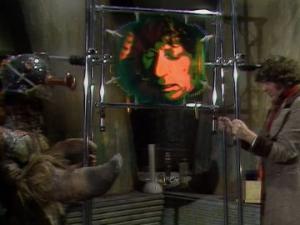 Broadcast: Saturday 10th July 1999
11:00pm-11:30pm EDT
(03:00 GMT)
<
>
«
»
WQED
Featuring: Tom Baker, Elisabeth Sladen, Cynthia Grenville, Philip Madoc
Morbius, housed in a gruesome new body, breathes and moves once more! The Doctor is forced to challenge him to a terrifying mental duel which will lead to death!
Synopsis Source: Doctor Who Guide
---
Broadcast notes:
Included Howard DeSilva introduction.
Broadcast Source: TWIDW
Report from the This Week in Doctor Who Archive:
Friday 9th July 1999:
WQED / WQEX 13, 16 Pittsburgh, PA
http://www.wqed.org/
http://www.tvquest.com/ zip 15201
toll pledge line 1-900-990-1313
non-toll pledge lines 1-800-232-8813 and 412-621-5808
SCI-FI SATURDAY NIGHT FEVER - in 4 weeks!
Saturday at 11PM EDT The Brain of Morbius episode 4 of 4
Afterwards - Doctor Who And The Silurians episode 4 of 7 (color)
The 4th Doctor engages in a mind-bending contest with Morbius in a last ditch effort to save the galaxy from this creature. Then, flash back to the early days of the 3rd Doctor, when the Doctor raced to find a way to make contact with the Silurians to ensure that there would be no war with the humans.