Last updated 02 January 2017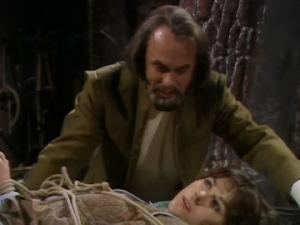 Broadcast: Saturday 3rd July 1999
11:00pm-11:30pm EDT
(03:00 GMT)
<
>
«
»
WQED
Featuring: Tom Baker, Elisabeth Sladen, Cynthia Grenville, Philip Madoc
Sarah has been blinded and the Doctor asks the Sisterhood for help. Morbius, fearful that the Time Lords have tracked him down, tells Solon to install his brain in a new body.
Synopsis Source: Doctor Who Guide
---
Broadcast notes:
Included Howard DeSilva introduction.
Broadcast Source: TWIDW
Report from the This Week in Doctor Who Archive:
Friday 2nd July 1999:
WQED / WQEX 13, 16 Pittsburgh, PA
http://www.wqed.org/
http://www.tvquest.com zip 15201
Toll pledge line 1-900-990-1313
Other pledge lines 1-800-232-8813 and 412-621-5808
SCI-FI SATURDAY NIGHT FEVER - in 5 weeks ...
Saturday at 11PM EDT The Brain of Morbius episode 3 of 4
Immediately afterwards - Doctor Who And The Silurians episode 3 of 7 (color version)
Sarah loses her sight as the tension between Solon, the Doctor, and the Sisterhood escalates. Morbius grows ever more tiresome of waiting for a body. Then, in an early 3rd Doctor episode, the Doctor learns that Doctor Quinn may be hiding vital information about the force responsible for the power failures. Somehow, whenever I see the TV series with Jane Seymour as Dr. Quinn, she comes off as a fictionalized version of this man. The characters seem so similar.