Last updated 02 January 2017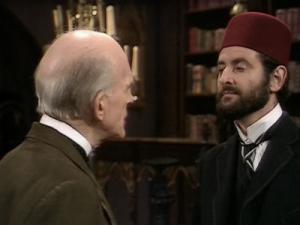 Broadcast: Saturday 27th March 1999
11:00pm-11:30pm EST
(04:00 GMT)
<
>
«
»
WQED
Featuring: Tom Baker, Elisabeth Sladen, Bernard Archard, Michael Sheard
The TARDIS lands in 1911. In the grounds of the Old Priory, Egyptian mummies are walking and the Doctor and Sarah find that an ancient and powerful evil is menacing mankind.
Synopsis Source: Doctor Who Guide
Included Howard DeSilva introduction.
Broadcast Source: TWIDW
Report from the This Week in Doctor Who Archive:
Friday 26th March 1999:
WQED / WQEX 13, 16 Pittsburgh, PA
http://www.wqed.org/
Saturday at 11PM EST The Pryamids Of Mars episode 1 of 4
Saturday at 11:30PM The Keys of Marinus: The Sea of Death episode 1 of 6
At 11, Marcus Scarman uncovers the tomb of Sutekh, last of the Osirans. Will he fall victim to the curse? Then, at 11:30, by special arrangement, WQED begins a special Black & White
Doctor Who
run. First up, an early
Hartnell
story. The TARDIS lands on an island surrounded by acid. The owner of the island does not want the Doctor to leave, well, not just yet ...