Last updated 02 January 2017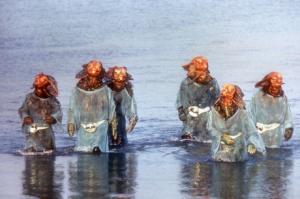 Visit Broadcast Link
Broadcast: Monday 5th May 2014
3:45pm-4:20pm BST
(14:45 GMT)
<
>
«
»
Horror Channel
(adverts during broadcast)
Featuring: Jon Pertwee, Katy Manning, Roger Delgado, Clive Morton, Edwin Richfield, Donald Sumpter
Classic British sci-fi adventure starring Jon Pertwee. After the Sea Devils attack the island prison and rescue the Master, the Doctor must venture underwater in pursuit. Part 4/6.
Synopsis Source: Horror Channel
---
Broadcast notes:
The ad break occurs as the Doctor points out to Archer that the submarine is heading to the island beach ...
Broadcast Source: Horror Channel