Last updated 02 January 2017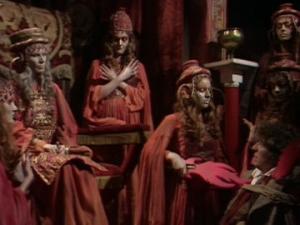 Visit Broadcast Link
Broadcast: Saturday 19th April 2014
6:35pm-7:10pm BST
(17:35 GMT)
<
>
«
»

<
>
«
»
Horror Channel
(adverts during broadcast)
Featuring: Tom Baker, Elisabeth Sladen, Cynthia Grenville, Philip Madoc
Classic British sci-fi adventure starring Tom Baker. The Sisterhood prepare to sacrifice the Doctor to the Sacred Flame and Sarah's rescue attempt leaves her in grave danger. Part 2/4
Synopsis Source: Horror Channel
---
Broadcast notes:
Intro: "Are you a Doctor Who fan? Enter our 'You Know Who' quiz for a chance to win a spot to interview Tom Baker on the 2nd May. Just go online to horrorchannel.co.uk for more information."

The ad break occurs as the Doctor and Sarah run from the Sisterhood just after he escapes the pyre and Sarah is blinded by Maren's ring ...

Outro: "Have we left you hanging? You'll have to join us tomorrow at 11am to conclude The Brain of Morbius, followed by another full day of Who on Horror, including Attack of the Cybermen. Plus there's more classic episodes of Doctor Who weeknights at 7:50. But up next. Curse of the Talisman."
Broadcast Source: Horror Channel