Last updated 02 January 2017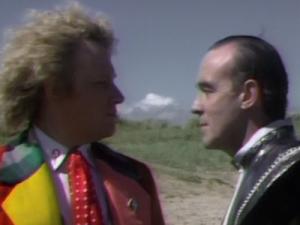 Broadcast: Saturday 3rd October 1998
7:30pm-8:00pm PDT
(02:30 GMT)
<
>
«
»
KBTC
Featuring: Colin Baker, Bonnie Langford, Anthony Ainley, Lynda Bellingham, Geoffrey Hughes, Michael Jayston, Tony Selby
Mel realises that the Valeyard has created a weapon within the Matrix that will destroy the Time Lords, and the Doctor is forced to rely on the Master for help.
Synopsis Source: Doctor Who Guide
Broadcast Source: TWIDW
Report from the This Week in Doctor Who Archive:
Friday 2nd October 1998:
KBTC 28 / KCKA 15 in Tacoma, Washington
concludes "The Trial Of A Time Lord" this weekend with episodes 13 and 14 (aka
The Ultimate Foe
, episodes 1 and 2). As the Doctor faces probable conviction and death, surprise witnesses turn up. More surprising then the guests is who brought them. And more surprising then that is the news this person brings, that may save the Doctor's life, but will haunt him and Gallifrey forever. Michael Jayston plays the Valeyard.
These episodes will air 4 times: Saturday night at 7PM and 12:30AM, and Monday night at 7:30PM and 12:30AM.