Last updated 02 January 2017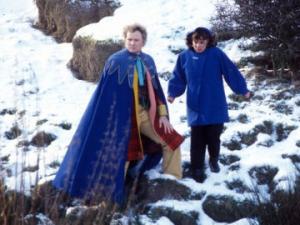 Broadcast: Saturday 8th August 1998
7:30pm-8:00pm PDT
(02:30 GMT)
<
>
«
»
KBTC
Featuring: Colin Baker, Nicola Bryant, Eleanor Bron, William Gaunt, Terry Molloy, Alexei Sayle, Clive Swift, Jenny Tomasin
The Doctor and Peri visit Necros to pay their last respects to Professor Arthur Stengos. The Daleks and the Great Healer are also on Necros… but what do they want?
Synopsis Source: Doctor Who Guide
Broadcast Source: TWIDW
Report from the This Week in Doctor Who Archive:
Friday 7th August 1998:
KBTC/KCKA 28/15 in Tacoma, Washington
is setting up a cliffhanger for some of its viewers. This week's episodes are parts 1 and 2 of a 4 part version of
Revelation of the Daleks
. The Doctor and Peri visit an intergalactic funeral home, where the Great Healer is up to no good. The episodes are scheduled to air
Saturday at 7PM and 12:30AM, and Monday at 7:30PM and 12:30AM
. But beware, Monday viewers. This is the final Monday broadcast of the month. Unless you remember to tune in on Saturday the 15th, you won't see the rest of the story. Of course, someone will miss this notice, stop watching the show when the Monday broadcasts take a holiday, and believe forever that *that* cliffhanger was the end of the series. Oh well.