Last updated 02 January 2017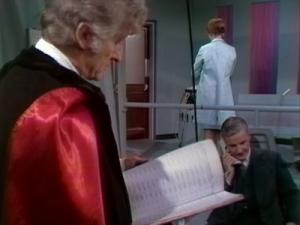 Broadcast: Friday 2nd April 1999
11:05pm-11:30pm CST
(05:05 GMT)
<
>
«
»
Iowa Public TV
Featuring: Jon Pertwee, Nicholas Courtney, Caroline John, Fulton Mackay, Peter Miles
UNIT are summoned to Wenley Moor research station which is experiencing mysterious power losses. In the nearby caves, one of the staff has been killed and another sent insane.
Synopsis Source: Doctor Who Guide
Broadcast Source: TWIDW
Report from the This Week in Doctor Who Archive:
Friday 2nd April 1999:
Iowa Public TV
11, 12, 21, 24, 27, 32, 32, 32, 36
http://www.iptv.org/ and http://www.mach3ww.com/sffn/
Friday at 11:05PM CST "Doctor Who And The Silurians - recolored" episodes 1 and 2 of 7
Huh? I thought the version Iowa aired a few months ago was the restored one. But IPTV is spending most of April showing this story, to be followed by the recolored episodes of
Terror of the Autons
. Whatever their reasoning, the recolorization jobs are quite good. Assuming they're sent the right tapes, of course. My source in Iowa says that their special broadcast of the extended version of
The Curse of Fenric
last month
was fouled up. Aparently, they were given and aired the original broadcast version. I can only imagine the words between the program director and the supplier after that one. If anyone's still reading, the 3rd Doctor, the Brigadier, and Liz investigate a nuclear power complex that's suffering a series of baffling power losses. The Doctor wonders if it might have something to do with nearby caves.