Last updated 02 January 2017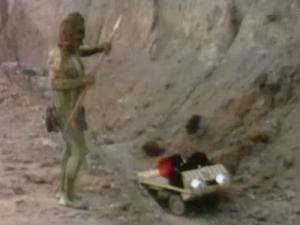 Broadcast: Friday 12th February 1999
11:05pm-11:30pm CST
(05:05 GMT)
<
>
«
»
Iowa Public TV
Featuring: Jon Pertwee, Katy Manning, Tony Caunter, Roger Delgado, Bernard Kay, Morris Perry, John Ringham, Helen Worth
With Jo held prisoner in his TARDIS, the Master forces the Doctor to take him to the underground city of the primitives. Any sign of treachery from the Doctor and Jo will die.
Synopsis Source: Doctor Who Guide
Broadcast Source: TWIDW
Report from the This Week in Doctor Who Archive:
Friday 12th February 1999:
Iowa Public TV
11, 12, 27, 32 http://www.iptv.org/ and
http://www.mach3ww.com/sffn/
Friday at 11:05PM Colony In Space episodes 5 and 6 of 6
The Master's TCE dies a tragic death. The miners and the settlers engage in deadly brinksmanship. The underground civilization is revealed to be far more advanced then imagined, and the Master plans to exploit their power.