Last updated 02 January 2017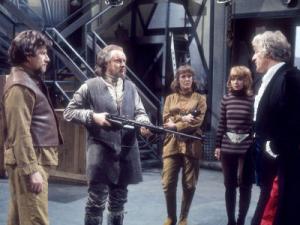 Broadcast: Saturday 30th January 1999
12:05am-12:30am CST
(06:05 GMT)
<
>
«
»
Iowa Public TV
Featuring: Jon Pertwee, Nicholas Courtney, Katy Manning, John Ringham, Helen Worth
The TARDIS takes the Doctor and Jo to a barren world in the far future where human colonists are scratching a living. But at night, the colonists are menaced by a monster.
Synopsis Source: Doctor Who Guide
Broadcast Source: TWIDW
Report from the This Week in Doctor Who Archive:
Friday 29th January 1999:
Iowa Public TV
11, 12, 27, 32 http://www.iptv.org/ and
http://www.mach3ww.com/sffn/
Late Friday at 12:05AM - Colony In Space - episodes 1 and 2 of 6
IPTV's entire late Friday schedule will air an hour late due to wrestling The Time Lords send the 3rd Doctor and Jo 5 centuries in the future to unravel a twin dilemma. A mining corporation wants the rights to a planet that a colony has established itself on. Little do the two sides know of the potential danger lurking nearby.