Last updated 02 January 2017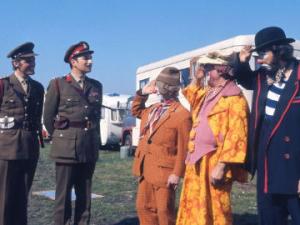 Broadcast: Friday 4th December 1998
11:30pm-11:55pm CST
(05:30 GMT)
«
»
Iowa Public TV
Featuring: Jon Pertwee, Nicholas Courtney, Katy Manning, Roger Delgado, Richard Franklin, John Levene, Harry Towb, Michael Wisher
The Doctor follows the Master's trail to the circus. Meanwhile, the Master has used his hypnotic powers to take control of a plastics factory where he creates the deadly Autons.
Synopsis Source: Doctor Who Guide
Broadcast Source: TWIDW
Report from the This Week in Doctor Who Archive:
Friday 4th December 1998:
Iowa Public Television
11, 12, 27, 32 - http://www.iptv.org/ and
http://www.mach3ww.com/sffn/
Friday at 11:05PM - Terror of the Autons - episodes 1 and 2 of 4
A new companion. An old friend turned enemy. Another old enemy. Hypnotism. Confused? Tune in for the answers. Through modern technology and a 70s VCR recording, the color is now back on the episodes. Conclusion airs
December 18th
.