Last updated 02 January 2017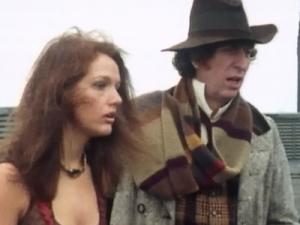 Broadcast: Saturday 30th October 1999
10:30pm MDT
(04:30 GMT)
<
>
«
»
KRWG
Featuring: Tom Baker, Louise Jameson, John Leeson, Michael Keating
The TARDIS arrives on Pluto which has been made habitable and turned into a giant factory where the ruthless Company exploits its under-paid workers.
Synopsis Source: Doctor Who Guide
Broadcast Source: TWIDW
Report from the This Week in Doctor Who Archive:
Friday 29th October 1999:
KRWG 22 Las Cruces, NM
(El Paso, TX)
http://www.nmsu.edu/~krwgtv/
Sat 10:30PM MDT The Sun Makers movie
Pluto. The smallest, coldest, least attractive planet of the solar system. Or at least it was, until humanity was moved out there and 6 suns were built. The Doctor arrives to find a population pacified by fear, taxed to death by a mysterious Company that is a curious mix of capitalism and communism.