Last updated 02 January 2017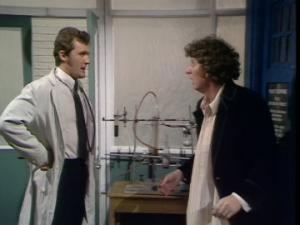 Broadcast: Saturday 1st May 1999
11:00pm MDT
(05:00 GMT)
>
»
New Mexico PBS
Featuring: Tom Baker, Nicholas Courtney, Ian Marter, Elisabeth Sladen, Patricia Maynard
UNIT are called in when top secret plans and valuable equipment is stolen from high security establishments. The newly regenerated Doctor suggests that the thief may not be human.
Synopsis Source: Doctor Who Guide
Broadcast Source: TWIDW
Report from the This Week in Doctor Who Archive:
Friday 30th April 1999:
*****RELAUNCH*****
KNME 5 Albequerque, NM
http://www.knmetv.org/
Saturday at 11PM MDT Robot movie version
KNME begins airing Doctor Who again with the opening episode of
Tom Baker
's era. A rash of bizarre military thefts attracts the attention of UNIT. They fall exactly into the area that UNIT's scientific advisor usually handles. But he's just changed his face, lost his mind, and wants to leave the planet. Can their recalcitrant employee, known only as "Doctor", focus his attention long enough to save the day?
*****RELAUNCH*****