Last updated 02 January 2017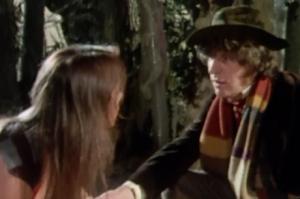 Broadcast: Saturday 12th December 1998
9:00pm-9:25pm EST
(02:00 GMT)
<
>
«
»
Maine Public Broadcasting
Featuring: Tom Baker, Louise Jameson, Brendan Price
The Doctor arrives on an alien world and is taken captive by the savage Sevateem tribe. Accused of being 'the evil one', the Doctor begins to suspect that he has been here before.
Synopsis Source: Doctor Who Guide
---
Broadcast notes:
Time approximate due to pledge drive (9:00-11:30pm)
Broadcast Source: TWIDW
Report from the This Week in Doctor Who Archive:
Friday 11th December 1998:
Maine Public Broadcasting
10, 10, 12, 13, 26, 39 - http://www.mpbc.org/
Saturday at 9PM - The Face of Evil - all 4 episodes
Two cultures - one technological, one tribal, each hating the other. Both worship Xoanon, a mysterious being with power over the planet. Now someone is standing up to Xoanon. Leela, one of the top warrioresses in the tribe, no longer believes. And she has evidence to back up her claim. A tall man with curly hair who eats babies has arrived, and he looks just like Xoanon. Ends at about 11:30PM after the pledge drive.