Last updated 02 January 2017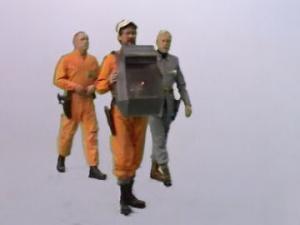 Broadcast: Sunday 1st November 1998
12:00am-1:30am EST
(05:00 GMT)
<
>
«
»
WFWA
Featuring: Tom Baker, John Leeson, Lalla Ward, Matthew Waterhouse, Clifford Rose
The TARDIS is drawn into an empty white void, somewhere between universes. But they are not the only ones trapped there.
Synopsis Source: Doctor Who Guide
Broadcast Source: TWIDW
Report from the This Week in Doctor Who Archive:
Friday 30th October 1998:
WFWA Fort Wayne, Indiana
- channel 39
Saturday at Midnight - Warriors' Gate - movie version
The 4th Doctor, Romana, Adric, and K9 find a gateway that can take them out of E-Space. So does a ship filled with time-sensitive slaves. But the winds of time blow in mysterious ways, and tragedy may strike for everyone. About 90 minute.