Last updated 02 January 2017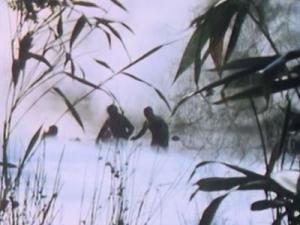 Broadcast: Sunday 18th October 1998
12:00am-1:30am EST
(05:00 GMT)
<
>
«
»
WFWA
Featuring: Tom Baker, John Leeson, Lalla Ward, Matthew Waterhouse, George Baker, James Bree
The TARDIS enters the universe of E-Space and lands on the planet Alzarius where Mistfall is occurring and creatures are stirring in the swamp.
Synopsis Source: Doctor Who Guide
Broadcast Source: TWIDW
Report from the This Week in Doctor Who Archive:
Friday 16th October 1998:
WFWA Fort Wayne, Indiana
- channel 39
Saturday night at Midnight - Full Circle - movie format
The Doctor returns Romana to Gallifrey to comply with a Time Lord order. Well, the TARDIS claims it's Gallifrey. Hey, the co-ordinates were correct, OK? Stop staring like that! The TARDIS was never designed to deal with negative co-ordinates! Why? Because it wasn't supposed to get shot through a CVE into E-Space, that's why! Well, now I'm out of time to describe the other 85 minutes of the story, so you'll just have to watch for yourself, won't you? About 90 minutes.