Last updated 02 January 2017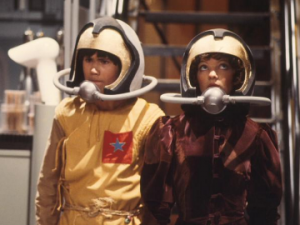 Broadcast: Sunday 8th November 1998
6:00pm-7:30pm EST
(23:00 GMT)
<
>
«
»
WBTU Indianapolis
Featuring: Peter Davison, Janet Fielding, Sarah Sutton, Matthew Waterhouse, Stratford Johns, Annie Lambert, Philip Locke, Paul Shelley
The arrival of the TARDIS is observed by three Urbankans via their manopticon devices. Intrigued, they begin dividing the Doctor's friends, and disguising themselves as humans
Synopsis Source: Doctor Who Guide
Broadcast Source: TWIDW
Report from the This Week in Doctor Who Archive:
Friday 6th November 1998:
WTBU Indianapolis, Indiana
- channel 69
Sunday at 6PM - Four To Doomsday - movie format
The 5th Doctor, Adric, Nyssa, and Tegan land on a spaceship headed for Earth and run by a mysterious reptillian type creature. Also features the "peeping tom" security cameras. 90 minutes. There is an e-mail address to let
WTBU
know that you support the good Doctor and want him to continue on their station.