Last updated 02 January 2017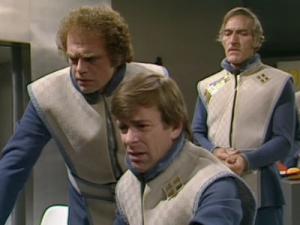 Broadcast: Sunday 26th July 1998
6:00pm-7:40pm EST
(23:00 GMT)
<
>
«
»
WBTU Indianapolis
Featuring: Tom Baker, John Leeson, Mary Tamm, Philip Madoc, Glyn Owen
Tracing the fifth segment of the Key to Time to the third moon of Delta Magna, the Doctor and Romana are soon caught up in the conflict between humans and the Swampies.
Synopsis Source: Doctor Who Guide
Broadcast Source: TWIDW
Report from the This Week in Doctor Who Archive:
Friday 24th July 1998:
I had trouble finding listings for
WTBU 69 in Indianapolis, Indiana
, this week, but assuming they aren't playing games with their schedule they'll show the movie format of
The Power of Kroll
this
Sunday at 6PM
. Also on the WTBU front, James Harvey reported that WTBU tends to play around with their schedule in minor ways. If the story is a few minutes long (not a problem with
Kroll
), they've been known to start a few minutes early. For 6 part stories, they often begin at 5PM. They're actually an independent station, a public broadcaster not affiliated with PBS, and have a great deal of interesting foreign programming. Let's hope they keep
Who
on for years to come.