Last updated 02 January 2017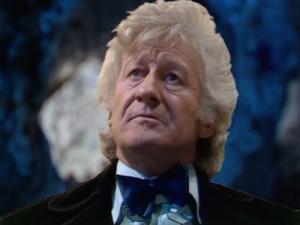 Broadcast: Saturday 15th May 1999
10:50pm-11:15pm CDT
(03:50 GMT)
<
>
«
»
Louisiana Public Broadcasting
Featuring: Tom Baker, Jon Pertwee, Nicholas Courtney, Elisabeth Sladen, George Cormack, John Dearth, Richard Franklin, Gareth Hunt, John Kane
The Doctor takes the blue crystal and returns to Metebelis 3 where he must face the spider ruler, the Great One. But it is an encounter that triggers his second regeneration..
Synopsis Source: Doctor Who Guide
Broadcast Source: TWIDW
Report from the This Week in Doctor Who Archive:
Friday 14th May 1999:
*****LAST SCHEDULED BROADCAST!!!!!*****
LPB 13, 18, 24, 24, 25, 27 Louisiana
http://www.lpb.org/
Saturday at 10PM CDT Planet of the Spiders episodes 4, 5, and 6 of 6
Lupton tries to con the Great One. Tommy is altered by the crystal. The 3rd Doctor discovers that the man in charge of the monestary is an old friend. Sarah accidentally travels to Metebelis. The 3rd Doctor must face his fear, even if it costs him his life and his time slot on
Louisiana Public Broadcasting
.
*****LAST SCHEDULED BROADCAST!!!!!*****