Last updated 02 January 2017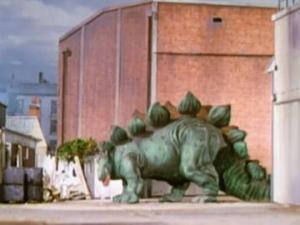 Broadcast: Saturday 20th February 1999
10:00pm-10:25pm CST
(04:00 GMT)
<
>
«
»
Louisiana Public Broadcasting
Featuring: Jon Pertwee, Nicholas Courtney, Elisabeth Sladen, Richard Franklin, Martin Jarvis, John Levene, Peter Miles
The Doctor plans to capture a dinosaur so he can discover who is transporting them through time. But Mike Yates is in league with the enemy and is ordered to stop the Doctor.
Synopsis Source: Doctor Who Guide
Episode One was skipped, with the station only receiving the colour episodes.
Broadcast Source: TWIDW
Report from the This Week in Doctor Who Archive:
Friday 19th February 1999:
Louisiana Public Broadcasting 13, 18, 24, 24, 25, 27
http://www.lpb.org/
Saturday at 10PM Invasion of the Dinosaurs episodes 2 and 3 of 6
The 3rd Doctor, Sarah, the Brigadier, Benton, and Yates investigate the appearance of Dinosaurs in Central London. Of course, if you want to see how this story begins, you're out of luck. The version of Invasion Of The Dinosaurs they were given does not include episode 1.