Last updated 02 January 2017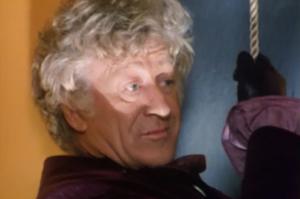 Broadcast: Saturday 2nd January 1999
10:25pm-10:50pm CST
(04:25 GMT)
<
>
«
»
Louisiana Public Broadcasting
Featuring: Jon Pertwee, Katy Manning, Prentis Hancock, Bernard Horsfall
The Doctor and the Thals escape from the Dalek city and the Doctor is delighted to find Jo is alive. But the Daleks are preparing deadly bacteria to kill all life on the planet.
Synopsis Source: Doctor Who Guide
Broadcast Source: TWIDW
Report from the This Week in Doctor Who Archive:
Friday 1st January 1999:
Louisiana Public Broadcasting
13, 18, 24, 24, 25, 27 http://www.lpb.org/
Saturday at 10PM - Planet of the Daleks - episodes 3 and 4 of 6
The Third Doctor, Jo, and the Thals go up against the Daleks on the planet Spiridon where the Daleks are attempting to gain the power of invisisbility. Will the good guys be able to stop the Dalek's plan fo conquest in time? Episode 3 only exist as a black and white film print in the BBC's Film and Video Library so the transistion to episode 4 may appear jarring to some.