Last updated 02 January 2017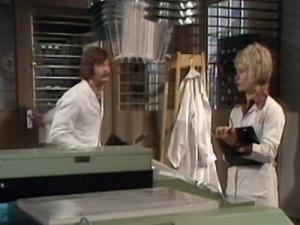 Broadcast: Saturday 17th October 1998
10:00pm-10:25pm CDT
(03:00 GMT)
<
>
«
»
Louisiana Public Broadcasting
Featuring: Jon Pertwee, Nicholas Courtney, Katy Manning, Ian Collier, Roger Delgado, Richard Franklin, John Levene, Wanda Moore
Masquerading as research scientist, Professor Thascales, the Master is using a device called TOMTIT to summon an ancient and powerful creature from beyond time.
Synopsis Source: Doctor Who Guide
Broadcast Source: TWIDW
Report from the This Week in Doctor Who Archive:
Friday 16th October 1998:
Louisiana Public Television
- channels 13, 18, 24, 24, 25, 27
Saturday night at 10PM - The Time Monster - episodes 1 and 2 of 6
When the Master shows up in one of the 3rd Doctor's dreams, he decides to devise a device to track down any TARDISes in the area. To his surprise, a signal's coming from an institute in Cambridge.