Last updated 02 January 2017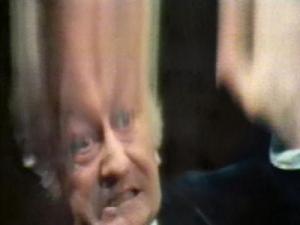 Broadcast: Saturday 6th February 1999
11:45pm-12:10am EST
(04:45 GMT)
«
»
WCET
Featuring: Jon Pertwee, Nicholas Courtney, Caroline John, Christopher Benjamin, John Levene, Derek Newark, Olaf Pooley
UNIT are at a project run by Professor Stahlman who plans to penetrate Earth's crust. But the drilling has already released something deadly from beneath the planet's surface.
Synopsis Source: Doctor Who Guide
Timing approximate, as part of pledge drive listed to end at 12:50am.
Broadcast Source: TWIDW
Report from the This Week in Doctor Who Archive:
Friday 5th February 1999:
WCET 48 Cincinnati, OH
http://www.wcet.org/
Saturday at 11:45PM Inferno episodes 1 and 2 of 7
The 3rd Doctor wants to use the power from a drill project to repair his TARDIS console. But his first attempt at a take-off has disturbing results. Affected by pledge drives. Scheduled to end at 12:50AM.