Last updated 02 January 2017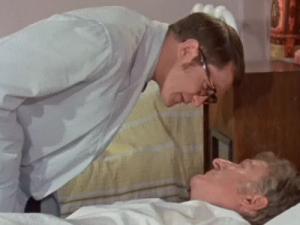 Broadcast: Saturday 5th December 1998
10:30pm-10:55pm EST
(03:30 GMT)
<
>
«
»
WCET
Featuring: Jon Pertwee, Nicholas Courtney, Caroline John, Hugh Burden
The TARDIS takes the newly regenerated Doctor to Earth to begin his exile. Brigadier Lethbridge-Stewart leads a UNIT investigation into a mysterious meteorite shower.
Synopsis Source: Doctor Who Guide
---
Broadcast notes:
Timing approximate, as part of pledge drive listed to end at 12:20am.
Broadcast Source: TWIDW
Report from the This Week in Doctor Who Archive:
Friday 4th December 1998:
WCET Cincinnati, Ohio
48 - http://www.wcet.org/
Saturday at 10:30PM - Spearhead In Space - episodes 1 and 2 of 4
WCET switches to episode format with this broadcast. The newly regenerated 3rd Doctor finds himself marooned on Earth just as an alien invasion begins. I guess this means he has to help out. Bummer for him. With pledge drives, the episodes are
listed
to end at 12:20AM! If that's right, then more time will be spent on pledge drives than episodes.