Last updated 02 January 2017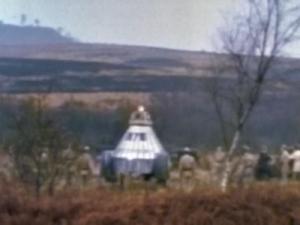 Broadcast: Friday 25th December 1998
10:30pm-10:55pm EST
(03:30 GMT)
<
>
«
»
NHPTV
Featuring: Jon Pertwee, Nicholas Courtney, Caroline John, Ronald Allen
Recovery 7 has returned to Earth but the UNIT convoy transporting the capsule is ambushed. The Doctor is able to relocate the capsule, but is he too late?
Synopsis Source: Doctor Who Guide
Broadcast Source: TWIDW
Report from the This Week in Doctor Who Archive:
Wednesday 23rd December 1998:
New Hampshire Public Television
11, 12, 15, 49, 52 http://nhptv.org/
Friday at 10PM - The Ambassadors of Death - episodes 1 and 2 of 7
8 months ago, a space mission to Mars disappeared without a trace. Now they are approaching Earth with no communications. Are they still alive after all this time? Or is something more sinister heading Earth's way? Episode 1 does survive in colour, but will probably air in black & white to match episode 2.