Last updated 02 January 2017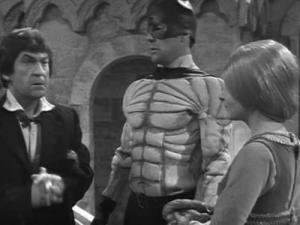 Broadcast: Friday 14th August 1998
10:30pm-10:55pm EDT
(02:30 GMT)
<
>
«
»
NHPTV
Featuring: Patrick Troughton, Frazer Hines, Wendy Padbury, Emrys Jones
The Doctor engages in a battle with the Master, both summoning characters from fiction to fight each other. If the Doctor loses, he will be trapped in the Land of Fiction forever.
Synopsis Source: Doctor Who Guide
Broadcast Source: TWIDW
Report from the This Week in Doctor Who Archive:
Friday 14th August 1998:
NHPTV New Hampshire
airs the concluding two episodes to
The Mind Robber
Friday night at 10PM
. It didn't look like they'd scheduled a pledge drive, but it would be very easy.
The Mind Robber
part 5 is the shortest regular episode ever made at 18 minutes long! Add that to the 21 minute part 4, and there'll only be 39 minutes of story. It's a good story, but you'd think they could have made the episodes a little bit longer. When we left off, Lemuel Gulliver was torn between helping our heroes or following his instructions, and the man at the center of the operation waits eagerly for the Doctor to arrive at the heart of his web. Say goodbye to reality now, and enjoy the chaos of imagination.