Last updated 02 January 2017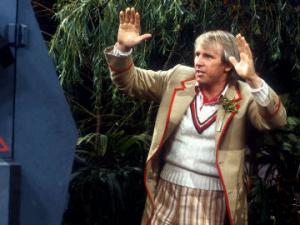 Broadcast: Saturday 26th September 1998
11:30pm-12:00am EDT
(03:30 GMT)
<
>
«
»
WUSF
Featuring: Peter Davison, Janet Fielding, Sarah Sutton, Matthew Waterhouse, Nerys Hughes, Simon Rouse, Richard Todd
While Nyssa rests, Adric and the Doctor discover a military expedition on Deva Loka. Tegan falls asleep in the forest watched by the Kinda, but they cannot stop her dreams.
Synopsis Source: Doctor Who Guide
---
Broadcast notes:
This was originally scheduled to be shown on the 19th September, but was bumped back a week due to the impact of Hurricane Georges.
Broadcast Source: TWIDW
Reports from the This Week in Doctor Who Archive:
Friday 18th September 1998:
WUSF 16 in West Palm Beach, Florida
moves on to episode 1 of
Kinda
, the 5th Doctor story that introduced a new villain, focused on Tegan, and had barely any appearances from Nyssa in it. It all takes place on Deva Loka, a planet haunted by an infamous force.
The episode airs at 11:30PM Saturday.
[DWAlliance Editor's Note: As mentioned in Letters of Comment, WUSF is in Tampa, not West Palm Beach]
---
Friday 25th September 1998:
WUSF 16 in TAMPA, Florida
is NOT airing
Doctor Who
at 11:30PM this
Saturday
. They're having a pledge drive! The apparent start time is
11:55PM
, and it's scheduled for 35 minutes. This week's episode is part 2 of
Kinda
. This 5th Doctor, Tegan, Adric, but not Nyssa story is generally loved or hated by fans. Trouble is brewing in paradise, and its teabag is Tegan. Meanwhile, two of the people on the human expedition go insane. Confused. Watch the episode to understand.
» The episode shown was actually part one, most likely at 11:30pm. The pledge has also been shifted two weeks on to 09 Oct 1998.