Last updated 02 January 2017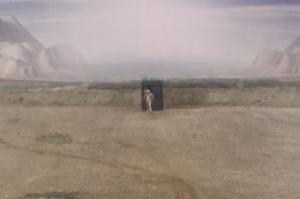 Broadcast: Saturday 19th December 1998
4:30pm-6:30pm EST
(21:30 GMT)
<
>
«
»
WUFT
Featuring: Peter Davison, Nicola Bryant, Christopher Gable, Robert Glenister, John Normington, Maurice Roëves
Gunrunners on Androzani Minor are supplying the unhinged android-builder, Sharez Jek, with munitions to help his plot to return to power. But not everyone is happy about that…
Synopsis Source: Doctor Who Guide
Broadcast Source: TWIDW
Report from the This Week in Doctor Who Archive:
Friday 18th December 1998:
WUFT 5 Gainesville, Florida
http://www.wuft.org/
Saturday at 4:30PM - The Caves of Androzani - movie version
The 5th Doctor and Peri land on Androzani Minor, a strategic, barely inhabitable planet with frequent mud bursts. Soon, they're caught in the middle of a battle between forces from Androzani Major and the infamous Saroz Jek. It appears everyone wants to kill them. But that's ok. They're already dying. Scheduled to end at 6:30PM.