Last updated 02 January 2017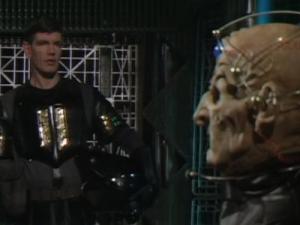 Broadcast: Saturday 5th December 1998
5:00pm-7:00pm EST
(22:00 GMT)
<
>
«
»
WUFT
Featuring: Peter Davison, Janet Fielding, Mark Strickson, Chloe Ashcroft, Rodney Bewes, Maurice Colbourne, Del Henney, Rula Lenska, Terry Molloy
Davros has been kept in suspended animation aboard a prison space station but now the Daleks have come to collect him, aided by Lytton and his fake 'policemen'.
Synopsis Source: Doctor Who Guide
---
Broadcast notes:
Pledge drives during the programme extended its length.
Broadcast Source: TWIDW
Report from the This Week in Doctor Who Archive:
Friday 4th December 1998:
WUFT Gainesville, Florida
5 - http://www.wuft.org/
Saturday at 5PM - Ressurection Of The Daleks - movie version
A Time Corridor forced the TARDIS to land in London. Meanwhile, in the future, a prison ship is attacked by Daleks. How has shaving cream created a panic among the Daleks, leading to their new aggressive tactics? And since it's an Eric Saward script, will ANY of the guest cast survive? Pledge drives in the program moves the expected ending time to 7PM.